Five Platforms to Help You Create an Engaging Virtual Event  
So you're ready to bring your community together for an online event? Congratulations on making the leap!  Creating ways for teams, customers, and like-minded people to come together is more important now than ever.
When it comes to a virtual event, choosing the right platform is just as important as choosing the right venue for an in-person event. Each day the landscape for virtual events is growing with more products, apps, and software. If you have spent countless hours researching a platform for your event, we feel your pain. The good news is, we have tested dozens of services over the last few weeks with event organizers like you in mind, and here are a few that we recommend from easy, self-serve to those with more enhanced features.
Hopin
Ideal for SMBs and B2C companies who want to create a signature experience.
One of the newest online event platforms,  Hopin reproduces the experience you would have at a lifestyle festival or product fair. This includes a reception area, breakout rooms, and an expo floor to showcase vendors and sponsors. You can charge for tickets and take payments within the platform, which can handle up to 100,000 attendees. Hopin is web-based, compatible with Chrome, Firefox, and Safari. Although they don't guarantee events will work on mobile. We didn't have any issues using it on our Apple device. The interface is easy to use and we like the way the design caters to both passive and active attendees. If your guest prefers to be a voyeur in a breakout, only the host knows they are in the room. Attendees who want to be seen or heard can make themselves visible and be invited by the host to interact with the group.  There is a private backstage area for panelists and facilitators to connect and there is a 1:1 video networking feature for attendees. The expo area allows sponsors to share content, and provide offers.  Get access HERE.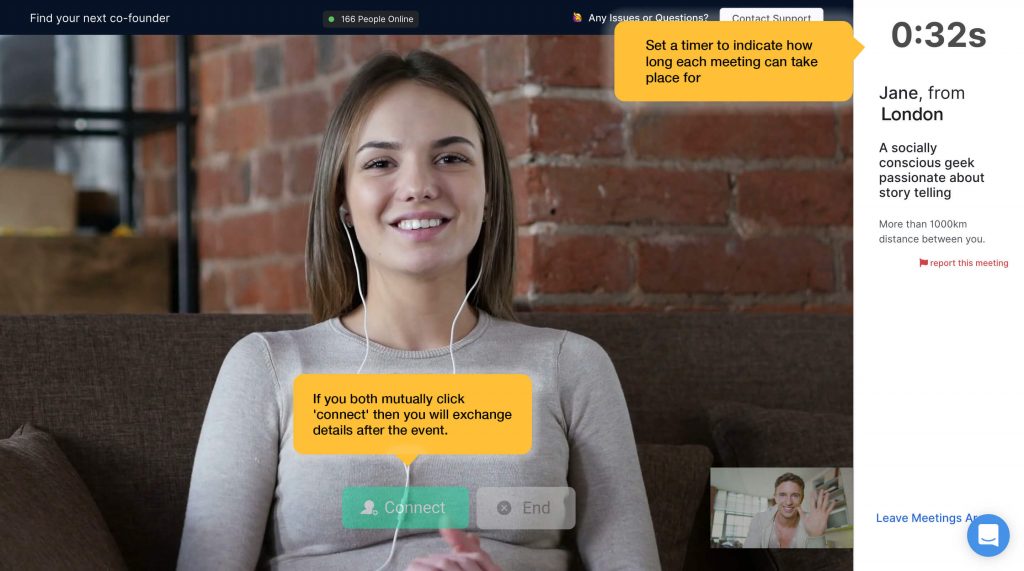 Conference on Demand Live
Ideal for corporate meeting planners, association meetings, galas, and graduation ceremonies.
If you're producing an AGM, congress, or even looking for a way to conduct online graduations, Conference on Demand Live from Animatic Media is a no brainer. This fully customizable product was built to deliver the same production quality that you would get attending a live event in an online format. Think sponsor commercials, video presentations, and "voice-of-god" announcements to introduce your speakers and moderators. Conference on Demand Live has also included tools to engage participants including polling and testing for organizations that provide continuing education credits. After your live session, the event can be made available for on-demand viewing.  Additionally, the platform can support an unlimited number of attendees, and can also be used for hybrid events.  This is a cost-effective virtual solution for organizations of all sizes.  The team at Animatic is hands-on throughout the process and is great to work with. You can see an overview HERE.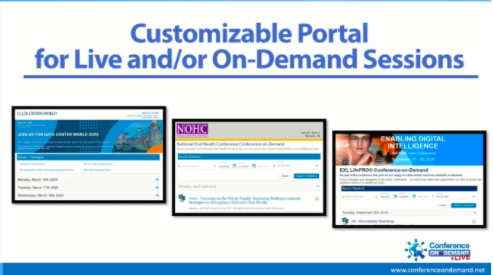 MeetingPlay Virtual Engagement Platform
Ideal for conference planners, associations, and expos.
If face-to-face networking, Birds-of-a-Feather sessions, and social hours are the highlight of your in-person event, MeetingPlay's Virtual Engagement Platform helps take the distance out of social distancing. In addition, to live 4Kstreaming and pre-recorded content to any number of attendees, MeetingPlay shines with its interactive features. There's no need to integrate third-party apps like Slack – attendees can do all their networking inside the platform. They've developed apps to help match like-minded attendees, virtual rooms for social hours and roundtables; and peer-to-peer conferencing. As the name suggests, you can gamify the experience by awarding attendees points and prizes for their engagement like checking in or participating in surveys. MeetingPlay also has a comprehensive solution for exhibitors and sponsors with branding opportunities across the platform; appointment capabilities; live office hours with face-to-face interaction; and the ability to provide special offers to attendees. Book a demo HERE.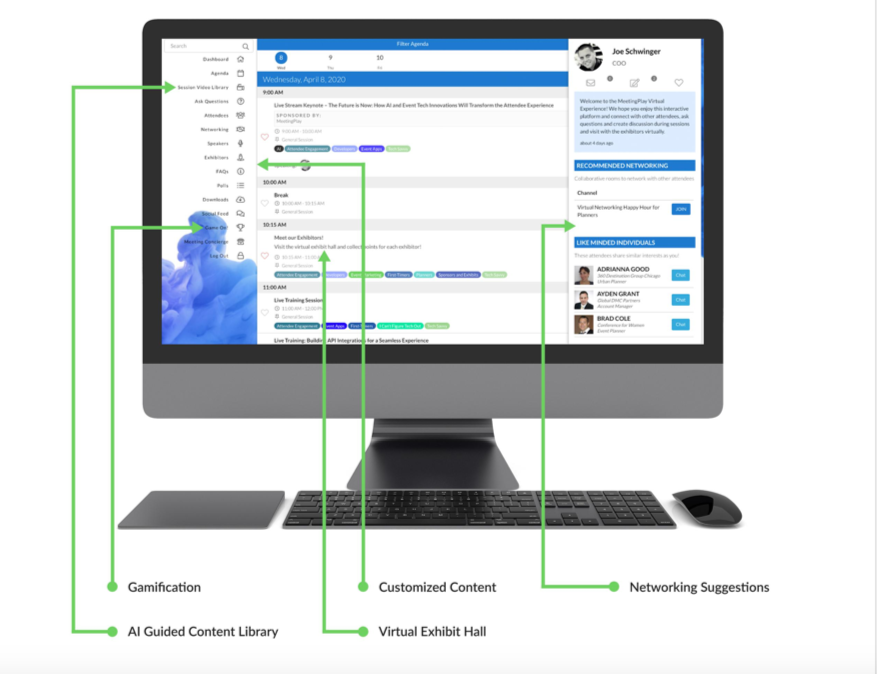 Pathable Virtual Event Platform
Ideal for corporate summits, trade shows, multi-day and hybrid events.
If you want a customizable virtual event platform with data-rich reporting, Pathable puts all the power in your hands. Engagement is at the forefront of Pathable's features and services which combine cutting edge design, community features and live video to create a highly immersive experience. As the event planner, you can communicate with attendees and presenters from your dashboard as well as monitor engagement and sentiment of your sessions in real-time.  Personalizing the attendee experience is a key component of Pathables technology. Guests receive a personal schedule that they can make notes to and they can curate their networking experience using various filters to identify the attendees they want to meet. Sponsor capabilities are similar to what you find on MeetingPlay but Pathable also integrates the ability for sponsors to gather leads from any attendee that visits their virtual booth. Request a demo and get a test account HERE to play with this feature-packed system and see what works for you.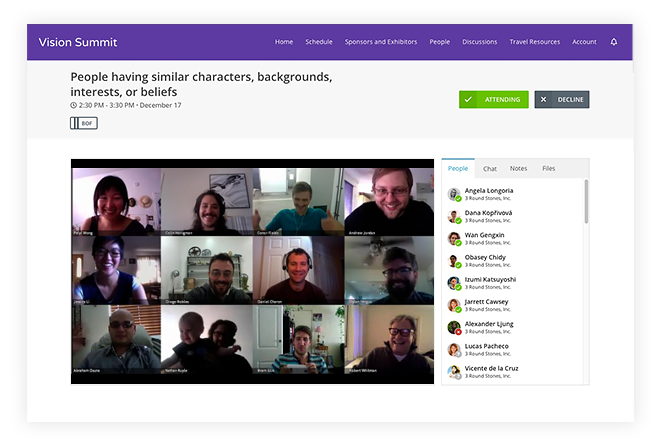 3D Exhibits Virtual Tours
Ideal for trade shows and expo organizers.
If you want to take your attendees into an immersive virtual world, the team at 3D Exhibits is who you want to call. For the last 10 years, 3D Exhibits have provided clients with interactive products to enhance their in-person events and tradeshow booths; including apps, branded video games, and VR environments. With their virtual tour capabilities, show organizers can turn an entire expo into a real-time virtual event. Exhibitors can transform a physical booth into a virtual one where customers can interact with a brand and their representatives as if they were on the show floor. The experience includes voice overs as well as navigational and informational hotspots for users to consume your content or product.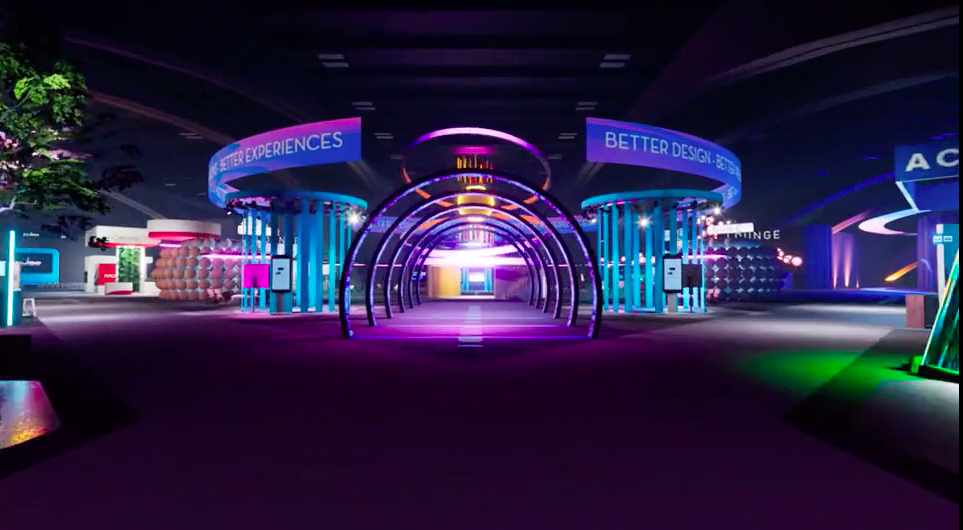 So which solution is right for you?  The team at Conversate Collective is here to help you make that decision and save you time on planning your first virtual event. Our calendar of summer virtual events is filling up so give us a shout to learn more about how we can produce a memorable online experience for your clients and customers.